Gap Closures
Gapped teeth are considered to be the most common problem these days, especially among people who have habit of chewing pen cap. Besides, people who had the habit of sucking their thumb in childhood may also experience gapped teeth in adulthood. Moreover, the age factor and genetic factor also plays a crucial role in causing space between teeth. Fortunately, there are several treatments available in the dentistry world that can eliminate the gap between your teeth and help you to get back the confident smile again. If you also have gap teeth, then it is the time to opt for gap closures offered by Dr. Kathuria's Dentistry. This procedure is considered to be the best cosmetic dentistry technique that not only eliminate the space between the teeth, but also enhance the look of your teeth.
There are different types of gap closure procedures executed by the dentists of Dr. Kathuria's Dentistry, one of the top cosmetic dentist clinic in New Delhi, India. The procedure employed greatly depends on the severity and condition of the case.
A method of gap closure is dental bonding. This method is used to offer a perfect shape of the tooth by filling the spaces available. Resin material is employed by the dentists to full the vacant space. Besides, the dentists also make sure that the resin material used for the treatment amalgamates with the actual tooth color of the patient. This procedure is less time consuming and can be accomplished in single sitting. This procedure is less expensive as well. Now a days, Dr. Sween Kathuria also does the latest Componeer Technology, which are prefabricated polished Composite Veneers.
We also offer gap closures with Porcelain Veneers. This technique is quite effective and helps the patients to get perfect smile. We utilize crowns/veneers to fill the vacant space between the teeth and they are used in such a way that it looks real. People with large spaces between teeth may opt for this treatment which may help them to get perfect smile on their face. The type of Veneers we will use for the treatment depends upon the condition and spaces of the teeth. Porcelain veneers are stain resistant & are stronger and durable than composite veneers. We use both porcelain and composite veneers.
No matter which technique of gap closure is used for treating gaps between the teeth, but we always recommend our patients to take utmost care after the treatment to maintain the effectiveness of the procedure. We at our smile design center help you to achieve that perfect Hollywood smile. Do visit Dr.Kathuria's dentistry in South Delhi for top end cosmetic dentistry.
GAP CLOSURE – COSMETIC DENTISTRY OPTIONS
Composite Bonding: where tooth colored fillings materials are used to close the gaps effectively. It's a single sitting appointment, safe & effective. It does stains in future & is not too durable option. Composite bonding costs Rs. 2500 to Rs. 4500 per tooth. (Depending on the material used)
Composite Veneer (COMPONEERS): They are the latest Pre-fabricated veneers & can be done in 1 or 2 sitting. The cost is Rs. 6000 per tooth. Long term durability & color stability is not as great as a porcelain veneer. They are a cheaper alternative to porcelain veneers but work reasonably OK.
Porcelain Veneer/Crown: It is the most preferred treatment option, worldwide; to correct the gaps we use the E-max system from Ivoclaire Vivadent (Germany). It costs Rs. 12,000 per tooth and very safe & not aggressive way to close the gaps. We also offer top end Zirconia Crowns (Brands like Procera; Lava: ZirCAD), each of which costs about Rs. 15000. The impression & bonding costs another Rs. 5000 (added to the TOTAL).
TIME FRAME & SITTINGS
The total time frame required is about 1-10 working days depending on your treatment of choice. Veneers & Crowns are a 2 stage procedure with 1st visit for 1-2 days & than a gap of 5-7 days for the lab turnaround time, followed by another appointment for fixing for 1-2 days.
Gap Closure Cases
Before and After Gap Closure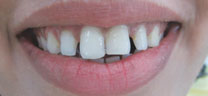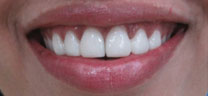 Gap Closure with Metal Free Crowns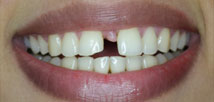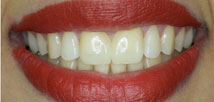 Gap Closure with Porcelain Veneers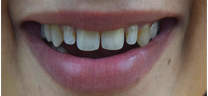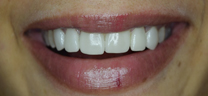 Gap Closure with Porcelain Veneers on Upper Centrals


Ms.Marina Achi-Fazakh
– High Commission of Canada
Excellent job and attitude of the doctors. The best clinic I saw in New Delhi. Everything was perfect 5 star ratings.
Read More Testimonials »
FRANSCICO MASU – Australia
Thank you Doctor Kathuria for a great work done for me. Thank you the complete team. Best wishes. Indeed on the best dental clinics in India.
Read More Testimonials »
FAQ's:
Book an Appointment
No Need for A Queue